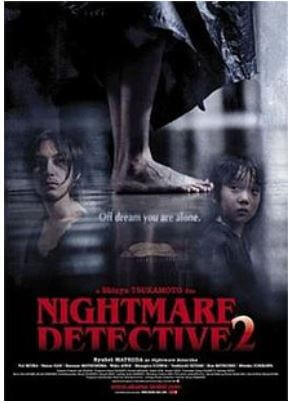 DVD Now on Sale
Nightmare Detective II
A Japanese helmer Shinya TSUKAMOTO, received Time Machine Honorary Award at Sitges, brings another franchise into the world.
The whole thing started out as a prank. Yukie and her friends, Mutsumi and Akiko locked their classmate Kikukawa in an equipment room in the gym, to scare her. Though they let her out in the end, Kikukawa stopped coming to school the following day. Yukie began to have nightmares about Kikukawa. One day during the class, Yukie fell asleep and dreamed Kikukawa ran towards in a sudden and weirdly spilt a cup of water at her, but which landed on her friend Mutsumi. The next moment when Yukie woke up in class she found that Mutsumi had died of a heart attack.

A few days after her death, Yukie has the same dream, but this time, it is her other friend, Akiko, she too dies an unnatural death. Yukie is convinced that she will be the next to die. Shaking with fear, and fighting the urge to sleep, Yukie begs Kyoichi, the Nightmare Detective, to help her. When he hears her story, he realizes that Kikukawa's behavior reminds him of his own mother who was scared of everything and eventually committed suicide. Thinking that he may be able to get a step closer to the mystery of his mother's death, he enters Yukie's nightmares, to confront the very nature of fear itself.

CAST

Ryuhei Matsuda
Yui Miura
Hanae Kan

STAFF

Director: Shinya Tsukamoto
Writer: Shinya Tsukamoto, Hisakatsu Kuroki
©2009 TSUKAMOTO SHINYA・KAIJYU THEATER ALL RIGHTS RESERVED.